The Entertainments
A modern Briton travelling back in time to watch a show at the amphitheatre would probably be horrified. Animals and men met violent ends in hunts and fights, and by the end of the day the sand in the arena would be soaked with blood.
The first part of the show however might be less brutal. There might be acrobats or wrestlers, and boxers - although the boxers wore metal studded things wrapped round their fists, which must have caused major damage to their opponents.
Much of the bloodletting in British amphitheatres seems to have involved animals - cockfighting, bear-baiting, and mock hunts, in which well-equipped hunters slaughtered wild animals released into the arena.
But evidence from pottery, mosaics, and statues shows that the Britons were very interested in gladiators fights too. The gladiators might first fight wild animals such as wild boars, bulls and wolves. In other parts of the empire exotic animals like lions and tigers were slaughtered.
Finally was the most savage and sickening part of the show - to us, but not to the Romans and Celts. This was the gladiator fights, in which trained men hacked, stabbed, and bludgeoned each other with a variety of weapons, while wearing various types of helmet and other armour. Also, criminals might be executed by being pitted without weapons against gladiators. Other criminals, like Christians, were sometimes condemned to execution by wild beasts.
Gladiators were usually slaves, criminals, or prisoners of war to begin with, and were trained in their own particular weapons and armour - a sword and helmet, perhaps, or a fisherman's trident and net. They were quite valuable, and the owner did not like them getting killed. It seems likely that most gladiators survived a show. Indeed, some of them became very popular. Oddly enough, the Emperor Commodus tried to become popular with his people by fighting as a gladiator in the Colosseum in Rome (a story shown in the film Gladiator).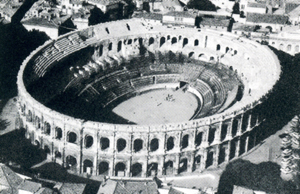 The amphitheatre at Nimes, France
The amphitheatre at Carnuntum, Austria