Morning Lesson Plan: Hoplites and their Gear
1. Introduction to Hoplites: their formation and their gear (30 minutes)
Look at photo showing phalanx, from the movie '300'. Look at photos of pottery paintings and statues depicting hoplites, plus large painting on a board. Try to spot all their gear, learn the names of each item and how they were designed and used.
Focus especially on the shield with its round bowl-like shape with painted decorations, and the bronze helmet, with its coloured horsehair crest.
Look at photos of real weapons and armour in museums and try to identify. Learn what materials were used (e.g. bronze, wood).
I will also show some pictures of hoplite reenactors.
2. Reenactment (15 minutes)
One child tries out my helmet, shield and spear and I teach them how a hoplite fought: the grip, stance, and movement. Then three children form the front rank of a phalanx, with shields overlapped and spears over the top aimed at the enemy. We then see how files were formed with men behind each other, spears reaching over their shoulders (see photo above).
Finally we have nine children form a mini-phalanx with three ranks and three files. We try a thrust at the enemy and learn how difficult it would be to maintain a tight formation.
Break
At 10.15 we will have a 15 minute break so I can set out the materials to make the helmets and shields. I will need 4 children to help me.
Lesson plan continues in next column.
Background information:
Literacy link: read my novel MARATHON for free here
3. Helmet and shield making (150 minutes)
Children will make copies of helmets and shields. They will be divided into groups of four, and each group will make one set (each item requires at least 2 children). This activity is complicated and challenging, so extra support will be needed, especially with lower ability children.
Shiny bronze and thick white card will be used, and templates for drawing round and cutting out, followed by sticking with glue, tape, and staples. Shield makers will draw designs in the middle of their shields with permanent markers. They can also choose a wave or triangle design for the rims.
Helmet makers can use a pencil to 'engrave' decorations around the eyes and nose, and choose from three crest colours (red white and black); they can also add stripes to the crests if they wish.
The helmet and shield making takes a long time so we will finish after lunch (and if necessary through lunch break). The end result however is extremely impressive and makes a wonderful wall display. Moreover, the helmets and shields can be worn and used in our battle reenactment (or in your own drama activities).
Display at St. Aidan's RC Primary, Manchester
Lizarders (spike on the bottom of a spear)
Afternoon Lesson Plan: the Battle of Marathon
1. Introduction (30 mins)
Background to the Battle of Marathon, 490BC. This was the first battle of the wars between Greece and Persia. Despite overwhelming odds the Athenian army won a stunning victory. The runner Philippides was sent 146 miles to Sparta to ask for help - which did not come in time.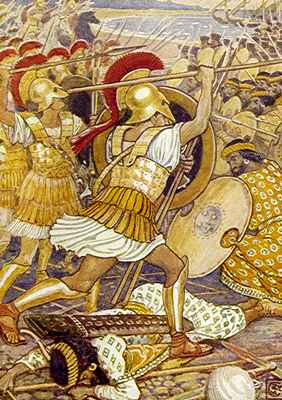 We will look at maps showing the Greek city states and the vast Persian Empire, and discuss the threat of Persia. Children will see evidence of the weapons and armour of the Persian army, and imagine how an Athenian at the time would have felt facing such a large and successful invading army.
Persian warrior on a Greek vase
Persian shields, made from sticks and leather
2. Battle Reenactment (50 mins)
We now go out onto the field/playground (or hall if wet) and reenact the attack at Marathon. Children are divided into four teams and each tries the following exercises, with a contest to see who can drill in the most orderly way:
- holding spear and shield correctly, marching, and advancing to fight
- running to avoid arrows and forming phalanx at the battle line.
The children in the other 3 teams pretend to be the Persians, firing arrows.
If time allows we will try the reenactment again, this time with the 'Persians' throwing soft plastic balls at the Greeks, to represent the arrows. Although the balls are harmless, children may find them distracting. Their job is to ignore the 'arrows' and form phalanx regardless of this attack.
This experience will give the children a much better sense of the difficulty of maintaining order and self discipline under battle conditions.
After this we will return to class and discuss what we have learned from the experience.
Greave (bronze shin guard)
Teacher Comments and Children's letters about the Greek Warfare Workshop
Y5 teacher at Aspinal Oasis Academy, Manchester (Nov 2019):
'I just wanted to drop you an email to thank you for the workshop you delivered on Tuesday. The children had a fantastic day and learnt so much in preparation for our topic. Many of the parents who attended parents' evening have commented on how much the children enjoyed the day.'
Y5 teacher (Michelle Ainscough) at St. Benedict's RC Primary, Wigan (May 2017):
'Just a quick email to say thank you so much for today. Myself and my class absolutely loved the experience and it's one they'll never forget I'm sure! I am looking forward to doing a follow up piece of writing all about the Battle of Marathon and I'm quite sure they have lots of opinions on it now!
It was obvious the effort you put into today and we appreciate that. I will be in touch about further visits!'
Y5 and 6 teachers at St. Hilda's Primary School, Stretford:
'Very informative and practical.' 'It reflected a wide range of knowledge that the children benefitted from. The activities were well planned.'
'This was an excellent workshop for the children to learn about ancient Greek weaponry and battles.'
Y5 teacher at Mossley CE Primary, Congleton: 'Fantastic - the children thoroughly enjoyed themselves. Brilliant.'
[I liked] 'everything from making helmets and shields through to the re-enactment.'
Y5 Teacher at St. Aidan's RC Primary, Northern Moor, Manchester:
'Hello Tony Just a line to say thank you for the wonderful day you gave us at St Aidan's on 6th November. The children thoroughly enjoyed the day and have been buzzing all week since. We have put together a display including writing, photos and of course the helmets and shields. The whole school has complimented the children on the high quality of their work and I know the head teacher has been suitably impressed. I have attached some photos of the display as promised. Thank you again I totally enjoyed the day and appreciate the time you must have put in preparing for the lessons. Regards Annette Mitchell Year 5 St Aidan's'
Letters from Y5 Children at Lyndhurst Primary, Dukinfield,
from a workshop in May 2011 (the names have been removed)