Lesson Plan: Towns
1. Roman Towns & game (30 mins)
Look at photos of real Roman buildings and discuss: houses, villas, shops, forum, theatre, amphitheatre, baths, temple, and city walls and gates.
Amphitheatre at Caerleon, S.Wales
Discuss what life might have been like for someone living in a Roman town. How similar would it be to life in a town today?
Game: look at photos of buildings from the Roman empire and guess what sort of building they are.
Another 'name the building' game
Before break we will set out the materials for the town making.
2. Make a Roman Town (90+ mins)
click to see larger version
Children make a model of a Roman town, by cutting out card 'nets' and folding and sticking them together. Different groups of children make the sorts of buildings discussed earlier (except for baths which are very complicated shapes). Two town planners paint a street grid on a piece of hardboard (approx 60X90cm), and decide where each building will go, thinking about ideal locations.
The town is a large and complex activity and it is unlikely the class will finish it by lunchtime.They will continue to work on it in the afternoon after making their artefact (weapon/armour or mosaic).
Please note that the town making requires complex skills such as cutting, folding and gluing accurately, as well as following written instructions. This means the workshop will be too hard for some year 4s. If you are in doubt, I recommend the mosaic and metal art option. For all options, we will need at least 2 extra adults in to help the children. If this is not possible we will make a reduced range of items for the town and metal art.
To help prepare children for the town making you can do two things:
1. Practice some of the art skills in advance, especially scoring with scissors and ruler, and making 3D shapes from nets.
2. On the day of the workshop, have as many adults as possible in the class to help (for both the morning and afternoon). You could invite parents in if TAs are in short supply. Please note that if fewer than 3 adults (in addition to myself) are present we will omit the more difficult buildings when making the town (the temple, theatre and amphitheatre). I can leave the resources for children to make these buildings another day if you wish.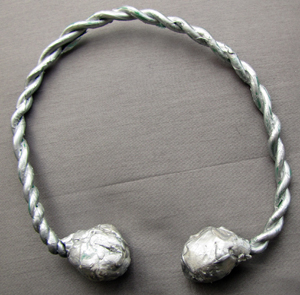 Torc made at St. Richard's RC Primary, Manchester
Lesson Plan: Soldiers
1. Learn about Roman Soldiers (20-30 mins)
Roman legionary
We begin by learning about Roman soldiers and their gear through photos and my replicas. Children see my Roman sword (gladius) and sheath, spear (pilum), shield (scutum), helmet (galea), body armour (lorica segmentata), belt (cingulum) and dagger (pugio). I show them how these items would be used in combat, and we discuss the life of a Roman soldier. One child can then be selected to wear/hold all this gear - a great photo opportunity!
Roman gladius and sheath, seen in the workshop
Me with my lorica segmentata and shield
My helmet replica
2. Make Swords and Helmets (100 mins)
Next children make Roman swords or helmets. I have designed these as high quality arts and craft activities, and I provide most of the resources. Most children will make a sword; a few more talented children can make a helmet.
Children use silver and gold card, wooden handles, plastic balls, plasticine and paint to create realistic models, following my guidance and support.
The helmet made by some of the children
The sword most of the children will make
Lesson Plan: Roman and Celtic Metal Art
1. Look at Roman and Celtic Metal Art (30 mins)
Children see replicas of Roman and Celtic artefacts, and discuss what they are (function/use), who might have used them, what they are made of, and their artistic style (Roman art is realistic, Celtic art features curves, circles and less realistic representations of animals and people). I also show photos of real artefacts on the whiteboard.
Artefacts seen: Celtic torc, mirror, and shield, two Roman embossed silver plates (one is a copy of a plate from the Mildenhall treasure - see above, and the other is a copy of part of the Corbridge lanx showing goddesses), and real Roman coins. Children will also see my versions of the items they will make from foil. Click here to see these copies.
Art activity options
1. Foil Art: Each child makes two items of foil art - first a silver or copper item and then a gold item. If you prefer, the items can be only Roman, only Celtic, or a mixture of both. This is the default option: that is, unless you specify you want to make torcs, we will make foil art.
3. Torcs: If your focus is on the Celts, you can have each child make their own torc (they make them in pairs, but each pair makes two torcs).
If you want a day only on Celtic art, we can make a torc for each child in the morning and a Celtic foil item for each in the afternoon. As an introduction I will do a short lesson on the Celts and their art styles and show my Celtic artefact copies.
2. Make Embossed Metal Art (60 mins)
The children make beautiful items of metal art using gold, silver or copper foil, specially designed for embossing. Most children work on their own item with a few working in pairs on more elaborate pieces (such as the famous Battersea shield). Please note that if fewer than 2 adults (in addition to myself) are present to help the children, we will omit the more difficult items (the mirror, Battersea shield, and the Oceanus relief).
Click here to see all the items as well as the originals on which they are based.
Copy of Celtic coin children will make
Using a pen, children trace over lines on a printed template onto the foil underneath. They then emboss the lines to make them stand out clearly, using a sharp pencil and a soft mat. Finally they cut out the foil and glue it to a card backing to protect it.
Dancing girl from the Mildenhall Treasure
The Old Warden Celtic mirror (for a pair to make)
As the foil is very easy to damage, children with difficulties in tracing over lines will use gold and silver card instead of foil. The card is still very effective, and they can make several different items as it is easier, quicker, and less costly.
Look at metal art made by children in workshops
3. Make Torcs (45 mins)
The Great Torc from Snettisham
For the alternative activity, children work in pairs to make two Celtic torcs. This is a necklace made from twisted metal, often worn by elite Celtic warriors. The pairs hold a loop of garden wire with sticks and twist. They add plasticine for the ends, shape the wire into a circle, engrave the plasticine with a pencil and paint the torc gold or silver.
Torc made by Y4 children at St. Joseph's RC Primary
Game - can you tell if an artefact is Roman or Celtic?
Another 'Roman or Celtic?' game