The Wonders of Egypt
There is nowhere on earth like Egypt. For thousands of years tourists have been astounded by its beautiful temples and tombs, its vast pyramids and its golden treasures.
This workshop focuses on a matter of great importance to the Egyptians - beauty, bodily adornment, and delicious scents. Statues and wall paintings, as well as numerous artefacts, make it clear that Egyptians - both men and women - took beauty very seriously. They used cosmetics like eyeliner, wigs which could be extremely elaborate, and many kinds of fragrance (of which children will sample three in the workshop). There was even a goddess of beauty, Hathor.
Hathor's face on a princess's mirror
The Egyptian workshop has been very popular for the last 9 years, for several reasons: the enthusiasm and depth of knowledge which I bring to the day, the in-depth tuition on the intricacies of hieroglyphs, art and other aspects of Egyptian culture, the high quality resources and creative activities which children love, and which provide a rich learning experience about ancient Egypt as well as teaching art skills, and the fantastic outcomes which you can display in the classroom.
Detailed lesson plans are provided to the right.
To book, contact:
Tony North
0161 438 6634/07754 406422
Literacy link: for an excellent retelling of Egyptian myths and stories, see Stories from Ancient Egypt by well-known Egyptologist Joyce Tyldesley.
Tutankhamun's scarab pectoral, photo shown in lesson
Copy of scarab pectoral shown in the lesson
Ankh necklace made in workshop
Lesson Plan: Morning
1. Introduction to Egyptian fashion (30-45 mins)
Children will look at photos of paintings and statues, and learn about Egyptian clothes, wigs, make-up, and jewellery, including bracelets, necklaces, rings, and collars. They will handle the sorts of semi-precious stones used for jewellery (lapis lazuli, carnelian, turquoise, obsidian, etc.).
Collar in the Manchester Museum, made of faience tube beads
Next is a game in which children try to identify items that might be found in a cosmetics kit or a bedroom, such as kohl bottles, chests for cosmetics, combs, razors, and mirrors. If time allows we will also look at the various crowns and headdresses worn by pharaohs and queens.
Finally children will smell three kinds of perfume used by the Egyptians - frankincense, myrrh, and blue lotus flower - and try to guess what they are.
2. Make artefacts (60-75 minutes)
At this point (about 10.15) we will have a break so I can set up for the jewellery making. The children will leave the room and I will need a few helpers to set up.
I will give a short lesson on how to paint accurately with acrylic paint (e.g. dry brush after washing it, correct mistakes, keep hand steady by resting it on the table, only touch with the tip of the brush).
Sistrum (rattle) made by a year 5 child, and a mirror made by a year 4 child. Both have the face of Hathor made from plasticine.
Then children will work in pairs to make a variety of artefacts related to beauty and fashion. Children will also work in a pair in the afternoon so that every child has his or her own artefact to take home.
Artefacts made: mirror with face of Hathor, four types of necklaces with different amulets (Osiris, ankh, djed, nefer, eye of Horus, scarabs) and lots of beads, Tut's scarab bracelet, sistrum (rattle with face of Hathor).
Painting an eye of Horus
The methods and materials have been carefully designed so that children can make artefacts of high quality and durability. They are also differentiated by difficulty level so you can assign a suitable task to each child. Photos of the artefacts are shown here.
Lunch Break - Over lunch I will set out materials to make the collars in the afternoon.
If you book a workshop I will email a letter which will let you know what resources we need (basic things like paint palettes, pots for water, table covers, painting shirts, and paper towels), as well as forms to assign children to all the art activities.
Lesson Plan: Afternoon
1. Dress up as Egyptians (30 minutes)
One boy and one girl are chosen to dress up as Egyptians, with linen clothes (a dress for the girl and a kilt for the boy), plaited wigs, jewellery (bracelets and necklaces, including a replica of a princess's collar with over 1,000 beads), eyeliner, and lipstick and blush for the girl. A permission slip is provided for children to wear the make up.
We look at the various items and discuss what they are, how they were made, and their meanings. I will also show children a couple more items of jewellery (necklaces and rings).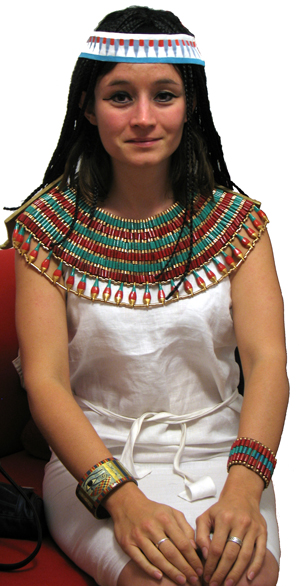 My wife Catherine modelling the clothes, wig and jewellery
Copy of bracelet belonging to the pharaoh Shoshenq
3. Make collars (75 minutes)
Children now work in pairs to make collars, one of the Egyptians' favourite jewellery items. The collars are made using card templates, gold card, pasta, PVA, and acrylic paint. When finished they can be cut out and worn.
Above and below: Collars made by year 4 children